This is a recipe that's inspired by what's available around the time that morels are in season.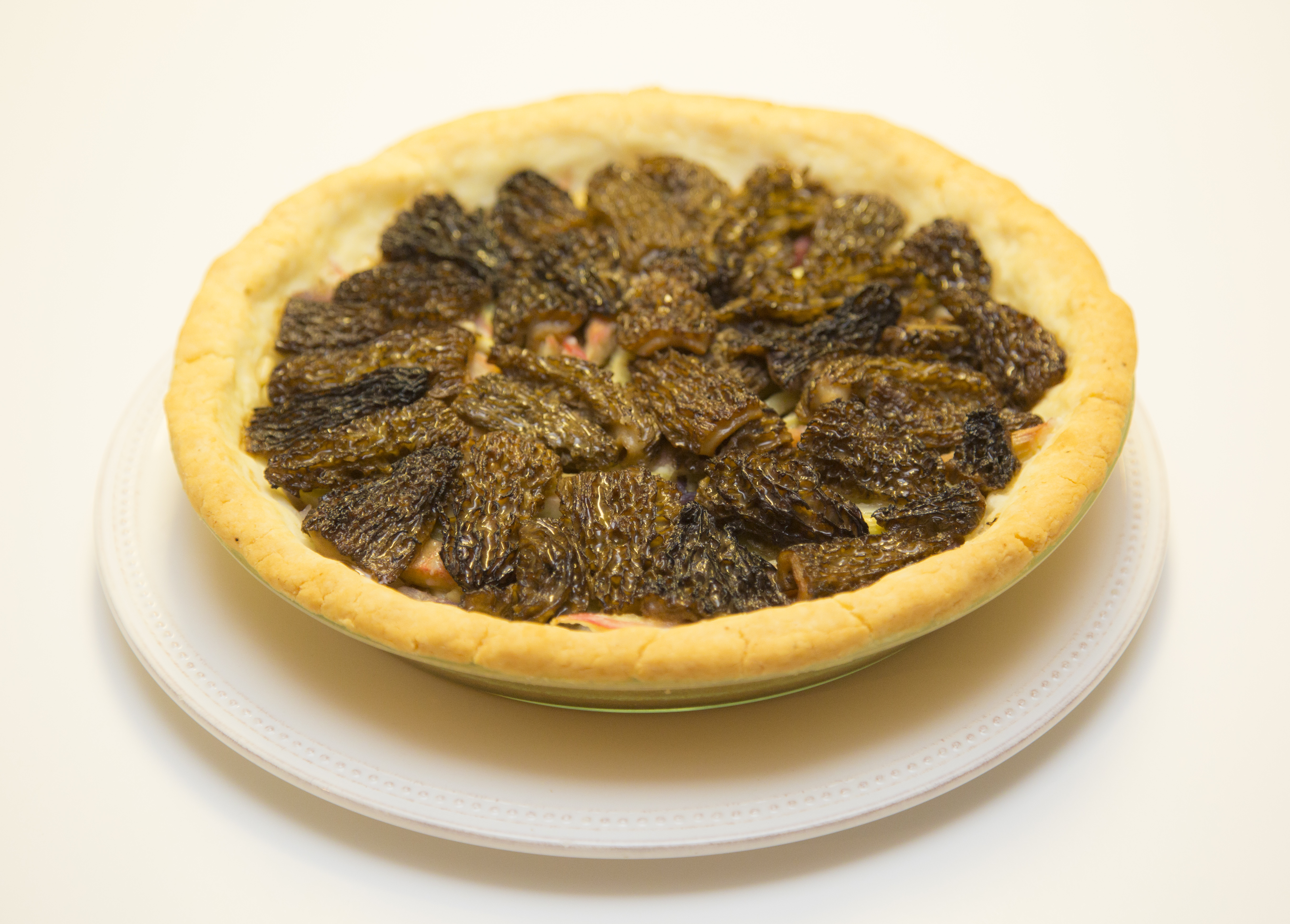 First, make a galette dough:
2 cups unbleached all-purpose flour
1 tsp. white sugar
1/4 tsp. salt
1.5 sticks cold unsalted butter (Plugra or similar), cut into 1/2" pieces
7 tbsp ice water
Directions: Mix flour, sugar and salt; cut butter in with a pastry cutter. Add ice water slowly until dough sticks together. Separate into two disks, wrap in plastic, and chill for at least 30 minutes. (You will only use one disk for this tart.)
Next, for the contents of the tart:
4 cups rhubarb stalks, cut into 3" lengths and then cut on a bias (be sure to remove the leaves, as they are poisonous)
as many morels as your budget permits, up to perhaps a dozen large ones
1/3 cup fresh goat cheese
nuts ­ either pine nuts (1/2c), pecans or walnuts (3/4c), toasted
half a red onion, sliced thin
4 large cloves garlic
3 tbsp flour
2 tsp white sugar
3-4 tbsp extra virgin olive oil
1 tbsp butter
1 tsp kosher salt
1/4 tsp cracked white peppercorns
Trim ends off of morels and cut in half lengthwise. Clean halves and inspect for inhabitants. Pat dry gently. Saute in butter and set aside.
Preheat oven to 375. Poach red onions and garlic cloves in olive oil over low heat until thoroughly soft. While they soften, place the flour, sugar, salt and pepper with the rhubarb, mix, and set aside.
Roll out one disk of dough and place in a 10" square tart pan with removable bottom. Trim excess and save for another use. To assemble the tart, remove red onions and garlic from olive oil, reserving oil for later. Crush garlic and place onions and garlic on bottom of tart. Layer nuts on top of onions and garlic. Arrange rhubarb in aesthetically pleasing pattern atop nuts. Line up the morels that you have not already eaten on top of the rhubarb. Drizzle onion/garlic-infused olive oil over top of tart. Bake at 375 for approximately 30 minutes. Tart will pull away from pan and will be golden when done.
Let cool for 10 minutes. Dapple small pieces of goat cheese across top of tart and serve.
Author: COLLEEN BRAUMOELLER;
Source: http://www.marxfoods.com/Morel-Mushroom-Recipes#recipe1