Foodie Fun events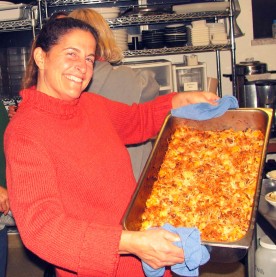 ... are scattered throughout the year. Fall brings a prix fixe wild mushroom dinner catered by the Culinary Committee. December's holiday potluck is followed by the Wine & Mushroom Fest in the late winter and the Suds & 'Shrooms picnic in the late spring. Tailgate tastings of collected edibles are an added bonus to some of our local forays. And long distance forays always feature a blowout Saturday night potluck.
Fall Mushroom Dinner
Past events have included a Pork and Porcini Dinner and a Chanterelle Dinner. The culinary group plans a multiple course dinner, and all you need to do is make a reservation! Bring your beverage of choice and your appetite. Details will be posted on the FFSC Calendar when firm.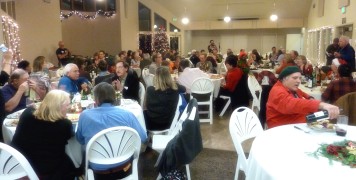 Holiday Potluck
This potluck, held in December, is truly of epic proportions. About 100 members, fine cooks all, get together to celebrate the season. Bring your own place setting and beverage of choice along with your dish. Details will be posted on the FFSC Calendar when firm.
Suds & 'Shrooms Potluck
A late spring co-op event with the Central Coast Zymurgeeks (www.zymurgeeks.org) , a local homebrew group. Wouldn't you go just to say you had MET a Zymurgeek? Seriously, these people make some fine brew and cider. And the überchefs of the FFSC grill up a storm and bring lots of mushroomy sides as well. Details will be posted on the FFSC Calendar when firm.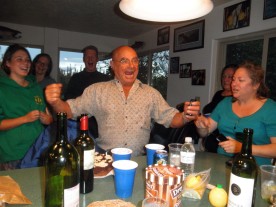 Wine & Mushroom Fest
Another inspired co-op evening, held in late winter with Santa Cruz Mountain appellation wineries. This event has been going on for decades with no end in sight! FFSC Members bring mushroom finger food, winemakers pour their very best, and all enjoy a fun evening.
For all food events
Your potluck wild mushroom dish must follow the recommended species list, be enough to serve 10 people, and be labeled with a descriptive tag (provided at the door). Identify your platter and utensils with water resistant tape and a marker if you want them back. Food should be brought cooked and warm. Cooking facilities are limited.
Inexperienced mushroomers are encouraged to use purchased mushrooms or bring dessert. In this club, chocolate is an honorary mushroom.  Check out out Potluck Essentials