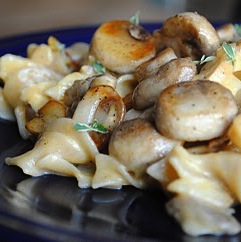 Chef Bob Wynn's fine English fungiphile's feast for a fun group of about 60. Bring your beverage of choice. Everything else is taken care of, including wine glasses and place settings. This event will take place at the Scotts Valley Senior Center on 11/09/2013 at 5:30 pm.
This is a prepaid event, with a cost of $20 per FFSC member before November 1. Each member may bring a guest for $30.
Member discount will be applied at checkout. Discount can be used to purchase up to 2 number of tickets, and it will expire on 11/01/2013. When order is complete, print out the PayPal confirmation (an email or a web page), and bring it to the dinner.
SOLD OUT
We are sorry, but it looks like we are oversold. You may contact the "2013 Fall Wild Mushroom Dinner" administrator if you would like to be on a list for potential cancellations.