(from 'Cooking with Daniel Boulud')
serves 4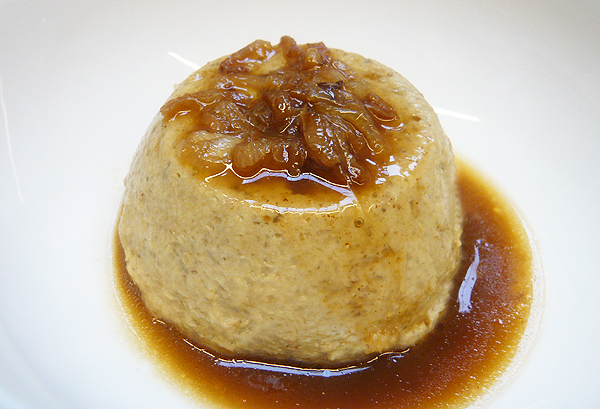 225g (1/2 lb) fresh morels (caps only), split
or 60g (2oz) dried morels*
1 cup white mushrooms (caps only)
4 large shallots, peeled and thinly sliced
1 clove garlic, peeled and chopped
120ml (1/2 cup) chicken stock
2 tbsp unsalted butter
1 sprig sage
1/2 tbsp sugar
1 tbsp vinegar
2 large eggs
1 cup heavy cream
freshly ground black pepper
salt
*soaked for 3-4 hours in warm water, then drained (you can also use dried porcini/ceps).
Melt half the butter in a large pan over a medium heat. Add 1 tbsp of the shallots, half the sage and garlic then sauté for a couple of minutes until fragrant. Add the morels and white mushrooms, season with salt and pepper, then continue cooking until all the moisture has evaporated whitout the mushrooms colouring (about 10 minutes). Add 1/4 cup of chicken stock to the pan and bring to the boil, letting it bubble for a couple of minutes.
Drain the mushrooms, discard the sage and reserve 4 pieces of morels if you wish to garnish the custards with them later (we didn't bother). Put the mushrooms back in the pan and add the cream, stirring well to combine. Bring to a boil and simmer for 3 minutes. Remove from the heat, season to taste and leave to cool for a few minutes. Pour into a food processor, then crack in the eggs and blend until smooth.
Preheat the oven to 180°C (350F°).
Butter 4 ramekins or soufflé cups (roughly 6cm x 3cm/2.5″x1″) and spoon the mushroom mixture carefully into each. Place in a deep baking pan and fill with water to about 3cm (1 inch) deep. Place in the middle rack of the preheated oven and bake for 35 to 40 minutes, or until the custard is set.
Meanwhile, melt the remaining butter in a pan over medium heat and sauté the remaining sage and shallots for 6-8 minutes, until softened and light golden. Add the sugar and continue cooking until the shallots are lightly caramelised. Splash in the vinegar and cook, until evaporated. Pour in the remaining 1/4 cup of chicken stock and boil for 2 minutes.
Remove sauce from heat, discard the sage and season to taste.
To serve, unmold the custards onto a warmed serving plate, spoon over a little of the shallot just, and top with the reserved morels (if using). Serve immediately.