Made by John Spaur for the December 2014 Holiday Potluck
This is the soup recipe based on ones I have read. When I cook I usually look at other recipes and then wing it, so quantities are guesstimates. The liquid needs to be varied to get the right consistency of the bisque.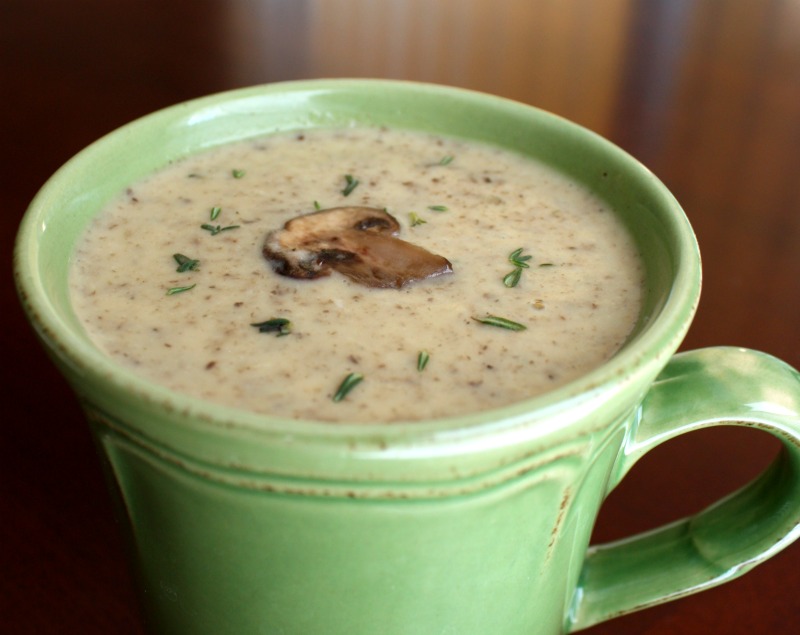 Ingredients:
Butter as needed divided use
1 onion, diced
1 small clove of garlic, minced
8 oz maitake mushrooms, sliced
3-4 shitake mushrooms, sliced
1 14.5 oz can vegetable broth (more or less)
½ C  heavy cream (more or less)
½ C white wine (more or less)
½  cube porcini bullion dissolved in a little water
1 sprig fresh thyme
1 small bay leaf
Salt and pepper to taste
Ground nutmeg - smidgen
Cayenne pepper - smidgen
2 Tbls dry sherry (to taste)
Directions:
In a heavy skillet, heat butter. Add the onion and sauté to caramelize; add garlic during the last 1-2 minutes to soften but do not brown the garlic. Put the onion garlic mixture into a blender or food processer.
Sauté the shitake mushrooms in butter to brown a bit and put into the blender or food processor reserving a few to use as garnish.
Sauté the maitake mushrooms in butter to brown. I cook these separately because they are moister and take longer to brown than the shitake. Place the mushroom in the blender or food processor reserving a few for garnish.
Add the vegetable stock to the onion/mushroom mixture in the food processor or blender and puree or blend until smooth. Be careful when starting the blender because the hot mixture will expand and blow the top off of the blender and spill the hot mixture. Pulse quickly before blending on high speed. You may need to do this in batches and add more vegetable broth. This is where you can add the porcini broth with water and white wine. The porcini broth will add salt so be careful.
Pour the blended mixture into a soup pot and add the white wine if you have not added it already. Add the bay leaf and thyme. Simmer for a few minutes to a boil or just under. Add the cream, salt, pepper, nutmeg, and cayenne to taste. Heat up and cook a few minutes longer.
Remove the bay lead and stir in the sherry just before serving with the reserved mushrooms as garnish.
Servings: 3-4
Cook Time: 30 minutes