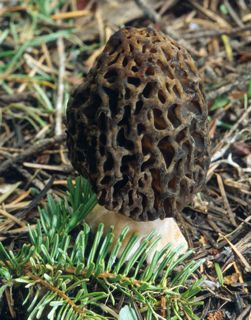 This recipe comes to us from the kitchen of Vernetta McGuire.
The beauty of this recipe is that it can be made a day in advance.  The filling can be used on baguettes, or if you double the puff pastry you really don't need anything else to serve it with.
Yeild: Serves many
Time: 2 hours, divided, including baking
Ingredients:
1 package frozen puff pastry, thawed
1 large wheel Brie (aproximately 8" diameter)
1 egg, beaten to blend
1 Tbs water
For Mushroom Filling:
3/4 c dried morels
1/2 c dried boletes
1 c water
Pinch of sugar
Pinch of salt
1/4 tsp soy sauce
3/4 c leeks, sliced
1/3 c chopped fennel
1Tbs olive oil and
2 Tbs butter
2 cloves garlic, minced
3 oz. button mushrooms, sliced
1/4 c Oloroso sherry
Combine dried mushrooms and water in a small saucepan, cover and simmer for 15 minutes.  Add sugar, salt and soy sauce.  Remove from heat and allow to cool for 15 minutes, or until well softened.
Drain mushrooms.  (I use a doffee filter and save the liquid.  finely chop the reconstituted mushrooms.)  In the meantime, finely slice fennel and leeks.
Combine olive oil and butter in pan.  Sauté the leeks, fennel, garlic and button mushrooms over medium-low heat until softened.  Add the reconstituted dried mushrooms and some of the liquid.  Simmer over low heat 30-45 minutes until mixture is of a jam-like consistency, adding more liquid as needed.  Check seasoning and add salt and pepper to taste.  Stir in the sherry during last 5 minutes of cooking time.  Cool completely.
Lightly dust a pastry sheet with flour and rollout puff pastry o sheet to remove fold lines.  Cut brie in half horizontally and separate the two peices.  Place one piece brie, cut side up, on puff pastry.  Spread mushroom mixture on top, leaving 1/2 inch space around outer edge, place the second piece of brie on top, cut side down. (You're basically slicing it in half, filling the center with mushrooms, and reforming the cheese.)  Center the brie in the middle of pastry and bring the edges up around sides and wrap over cheese.
Trim excess pastry and set aside for decoration.  For a thicker crust, which truly makes more of a finger food, roll out a second sheet of puff pastry as before.  Place pastry-wrapped brie seam-side down on second layer of puff pastry, fold up over sides and trim as before..  Place seam side down in lightly floured pie pan or other low-lipped dish.  Gather and re-roll saved trimmings for decoratations to place on top.  Can be prepared one day ahead.  Cover and refrigerate.
Preheat oven to 375 degrees F.  Bring to room temperature before baking.  Combine egg and water, brush over top of pastry.  Bake pastry until golden brown, 3- to 35 minutes, longer for larger brie.
Let stand 10 minutes.  Serve warm.