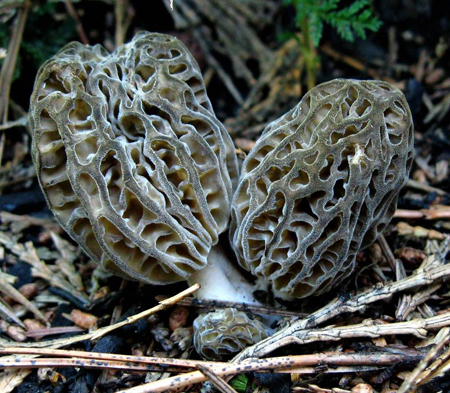 These crispy, spicy fritters beautifully combine earthy morels, nutty macadamias and sweet corn. The  recipe is adapted from The Mauna Loa Cooking Treasury by Leslie Mansfield. Fritters can be served warm or at room temperature as an appetizer or side dish.
Yield: about 45 fritters
Time: 30 minutes including cooking time
¾ c flour
1½ tsp. baking powder
1½ tsp. baking soda
1 tsp sugar
4 eggs, beaten
4 cloves garlic, finely minced
1½ Tbl. fish sauce
1½ Tbl. red curry paste
2 c corn kernels, fresh or frozen and thawed
1 c chopped, sautéed morels (fresh or dried and reconstituted)
1 c chopped toasted macadamia nuts
1 ½ c neutral, high heat stable oil (peanut, sunflower, canola)
Sweet chili sauce for dipping
In a small bowl, stir together flour, baking powder, baking soda and sugar with a fork. In a medium bowl, whisk together eggs, garlic, fish sauce and curry paste until smooth. Whisk in flour mixture until thoroughly blended. Stir in corn and morels and continue mixing until completely blended to a thick, smooth batter. The amount of batter relative to solids may seem scant, but don't worry.
In a large skillet, heat oil over medium-high heat. Drop batter by tablespoonful into the hot oil. Cook until deep golden brown, about 2 minutes per side. Drain on paper towels. Serve with sweet chili sauce (in Asian section of grocery store) for dipping.