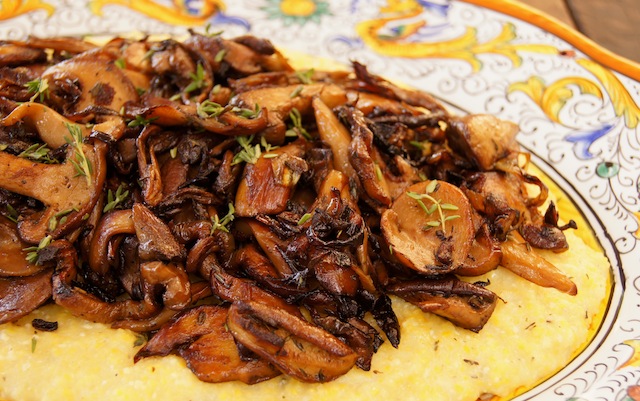 This recipe by Portland, Oregon Chef Cathy Whims of Nostrana and Oven and Shaker, is adapted from the Wall Street Journal. A rich blend of cheeses, chanterelles and polenta, it straddles the line between polenta and fondue. Chef Whims is a five-time James Beard Award nominee. Add a salad, some crusty bread and a bottle of wine to round out a fine repast.
Total Time: 25 minutes
Serves: 4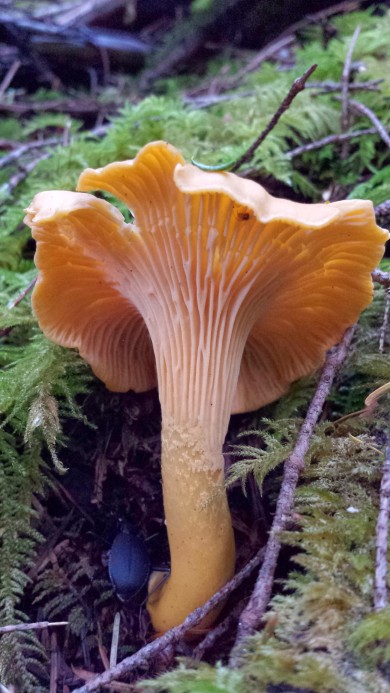 Ingredients
1½ C whole milk
2 C water
1 tsp salt, plus additional to season
2/3 cup instant polenta
3 oz Gorgonzola cheese, chopped into large pieces
3 oz Taleggio cheese, rind removed and chopped into large pieces
3 oz Fontina Val d'Aosta cheese, coarsely grated
1 C grated Parmigiano-Reggiano cheese
3 Tbl olive oil
1 lb chanterelle mushrooms, cut into ½-inch pieces
Freshly ground black pepper
3 cloves garlic, finely chopped
10 sage leaves
1 Tbl butter, at room temperature
Method
1. Make polenta: In a deep pot over medium heat, bring milk, water and salt to just under a boil. Slowly pour in polenta while constantly whisking. Once polenta is fully incorporated, reduce heat and gently simmer, whisking often, until grains are tender, about 5 minutes. Add water as necessary, to keep polenta loose. Add cheeses and stir until melted, about 3 minutes.
2. Make mushroom ragout: Heat olive oil in a large frying pan over high heat. Once oil is very hot, add mushrooms and season with a pinch of salt and pepper. Sauté mushrooms until liquid is released, about 2 minutes. Continue cooking until liquid evaporates and mushrooms brown, about 8 minutes more. Add garlic and sage and sauté until aromatic, 1-2 minutes. Add butter and cook until melted, about 30 seconds. Remove pan from heat and serve mushrooms over polenta.