---
Mushroom Talks on
Monday January 9 - Friday January 13
7:00 - 9:00 pm  Join Zoom Meetings Here
While the official talks will begin at 7:30 pm each evening, the zoom session will open at 7:00 pm for informal discussion and to allow everyone to get comfortable before the speaker begins.  If the the zoom room is full or if anyone is not comfortable using zoom, the talks can also be viewed on the FFSC YouTube channel by using the link on the right of this page (or bottom of page for cell phone users.)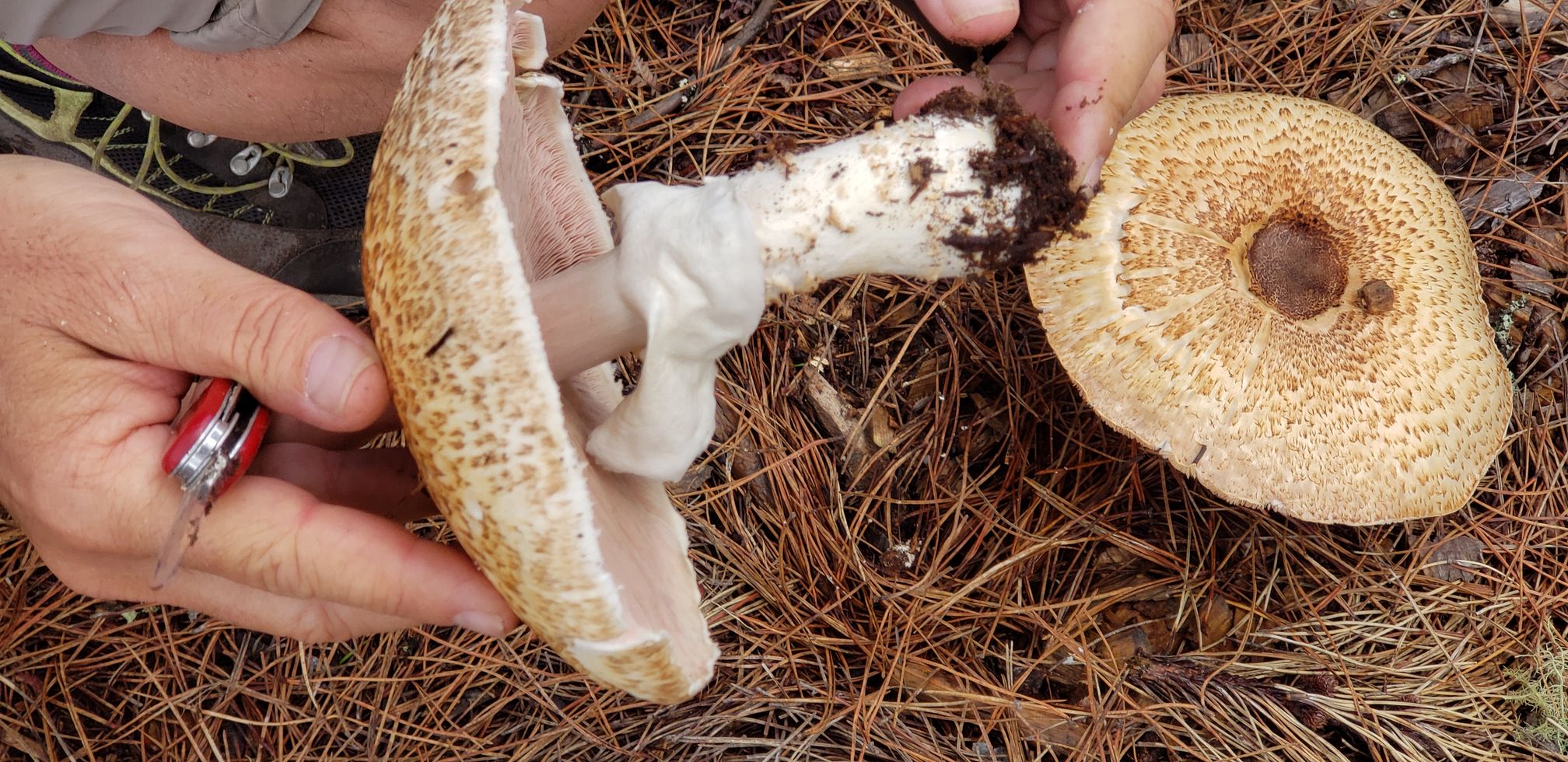 ---
2023 Speakers
---
Monday, January 9th  
Mycology in the Tropics: Fungi of Guyana & Trinidad  - Lauren Ré
Fluffy yellow fungi mimicking flowers in boggy savannahs - Dark, spindly mushrooms claiming the seeds of a valued Amazonian tree - Colorful Cordyceps emerging from insect cocoons beneath the rainforest floor - Learn more about the beautiful and bizarre mushrooms of the tropics as Lauren reports on her recent research trip to South America and the Caribbean. She will discuss ongoing studies by Purdue University and Penn State that focus on plant-fungal relationships and macrofungi of the Guiana shield. 
Lauren Ré graduated with a B.S from the Evergreen State College where she founded and coordinated the Evergreen Myco-Collective. She now lives in Bellingham, WA where she serves as an expert mushroom identifier and educator for the Northwest Mushroomers Association and South Sound Mushroom Club. She is passionate about community, education and bringing greater awareness and understanding of fungal biodiversity. You can find her in the forest whispering sweet nothings to a handful of tiny mushrooms.
---
Tuesday, January 10th  
Cryptic Niches - Unusual Fungi

and Where to Find Them



Bizarre fungal lifestyles & ecologies

- Jack Johnson
From sap sucking cups to flower mimicking smuts!
Tune in to engage with the more bizarre ecologies and ubiquitous oddities of kingdom fungi. A virtual booster pack for your practice of looking closely, Jack will share many novel places that funga call home, and the strategies they've adopted to make it easy living. Get excited to discover the fungi which hide in plain sight, and rediscover the lives of those you thought you knew in this talk highlighting cryptic beings of the fungal world. 
Jack Johnson (he/him) is a dedicated naturalist and scientist from Washington state. In the past few years he has worked researching the fields of bioremediation and bioplastic degradation, and traveled around the country building his skills as a naturalist. President of the Northwest Mushroomers Association, a member of the Pacific Northwest Key Council, and a key volunteer with the Fungal Diversity Survey (FunDiS), Jack loves to share his passion for fungal conservation and all things fungal. Some fungi he especially appreciates are any and all clubs, cups, polypores and more recently mucoromycotans.

---
Wednesday, January 11th
Mushroom Photography - How to take good pictures of mushrooms for beginners and advanced photographers.– Alan Rockefeller 
Alan will explain how to choose mushrooms to photograph, how to get good photos with a cell phone, and the pros and cons of using a dedicated camera and macro lens. The second part of the talk will discuss advanced techniques such as focus stacking and image post processing.
Alan Rockefeller is a mycologist and mushroom photographer based in the bay area who has been studying mushrooms since 2001. He has now photographed more than 2,500 species of fungi and has uploaded over 700 DNA sequences of fungi that he has found to Genbank. He leads forays in California, the midwest and Mexico, where he has been studying mushrooms for 15 years and is fluent in Spanish. Alan is in high demand as an expert at mushroom fairs where he teaches workshops on DNA barcoding, mushroom photography and fungal microscopy and has published new species of bioluminescent Mycena and Psilocybe. Alan regularly identifies mushrooms for several fungus fairs in Mexico and the USA and has identified over 250,000 mushrooms on websites including iNaturalist, Mushroom Observer and various Facebook groups.
---
Thursday, January 12th
Slime Molds of California - An Introduction to Myxomycetes - Stu Pickell
Anyone who spends much time in the forest in search of fungi eventually becomes acquainted with slime molds, those small bursts of colors when you get closer to a rotten log or slow down and notice some salmon eggs in the moss. Plasmodial slime molds (myxomycetes) are not fungi but they do share similar habitats and characteristics such as their formation of mushroom-like fruiting bodies. Stu Pickell will share some of the fascinating biology of these organisms along with photography methods and observations from his exploration of their diversity in California. 
Stu Pickell is a slime mold and fungi enthusiast residing in Los Angeles. Close encounters with slime molds and small ascomycetes while mushroom hunting sparked a broader interest in biodiversity and led him down the rabbit hole of macro photography — he now spends his time in the woods documenting often-overlooked tiny wonders. Stu serves as the Vice President of the Los Angeles Mycological Society and works as an engineer on NASA's Deep Space Network.
---
Friday, January 13th  
2023 update on Sea Islands, Sky Islands, & Dry Islands: the Biogeography of Macrofungi - Christian Schwarz
Making maps of the distributions of organisms is one of the most fascinating topics in all of natural history. The theory of island biogeography serves asn ideal starting point in understanding broader patterns of dispersal, extinction, and adaptation. How do fungi behave in comparison to other groups of organisms? In what ways do island-dwelling individuals differ from their mainland brethren? We'll explore all these topics and more!
Christian Schwarz is a naturalist based in California, the land of milk (caps) and honey (mushrooms). He teaches Natural History of Fungi at UC Santa Cruz, and co-authored "Mushrooms of the Redwood Coast". He now spends his time photographing, teaching about, collecting, and researching macrofungi. Fungi satisfy his curiosity with their seemingly endless forms; from the grotesque to the bizarre to the sublime. Besides dabbling in mushroom taxonomy, he loves fish, plants, nudibranchs, moths, and dragonflies. He is passionate about community science, especially iNaturalist. He is a Research Associate at the Norris Center for Natural History at UCSC as well as the Santa Barbara Botanical Garden.