TOM VOLK
Tom is a Professor of Biology at the University of Wisconsin - LaCrosse. His areas of interest are fungal systematics (especially of Morchella and Armillaria), fungal ecology and biodiversity. He teaches classes in Mycology, Medical Mycology, Plant Biology, Plant-Microbe Interactions and Latin Greek for Scientists. Visit his website, Tom Volk's Fungi. You'll find it engaging and entertaining. For a moving look at Tom's personal background and his unique relationship with fungi, watch this video from UW-LaCrosse.
---
PHILIP CARPENTER
Phil Carpenter has been a mushroom picker (versus "hunter") all of his life, having started picking midwest morels at a very early age. He has been pursuing mycology for over 30 years in California. He has been a member of the Fungus Federation of Santa Cruz for the full 25 years since it was founded, and has been an officer in the club for at least 23 of those years.
Except for a class given by David Arora in 1978, his extensive knowledge of mushrooms is self-taught. He has been associated with the Santa Cruz Fungus Fair for over 30 years and has been the chairperson or co-chairperson for nearly 10 years. Phil is often called upon to identify mushrooms for club members and in poisoning cases.
---
CHEF RUDY FANETTI-DURAN
Rudy was born in Livorno, Italy in the region of Tuscany and became an "American" in 2000. He arrived having completed chef's training in Italy and had worked many years on cruiseships and as private chef on private yachts. His philosophy is shaped by war-torn post World War II Italy as much as these work experiences. Chef Rudy says, "Though our town had been destroyed, we were determined to laugh, love and live well with what little we had. I learned to take pleasure in the sensation of being alive, and my appreciation for taste rose above all else." His personality as a chef may be simply summed up on this premise he lives by: Food is more than just fuel that feeds our bodies – it is the universal and indispensible means of conveying our traditions and shared community. Food with tradition and with "soul" is the central expression of special occasions in cultures around the world. In my philosophy, food maintains our bodies – "taste sustains life."
---
CHRISTOPHER HOBBS
Christopher Hobbs, LAc, AHG, is a fourth-generation herbalist and third-generation botanist whose life-long passion for plants was sparked at the age of 5, and then discovered mushrooms at 23. After 40 years of actively teaching and learning about the natural world, he is still ardently listening to what the plants and fungi have to teach.
The author of 25 books on health and herbal medicine, a licensed acupuncturist with more than 15 years of clinical experience, Hobbs is now a PhD candidate at UC Berkeley in the plant sciences, especially evolutionary biology, biochemistry, botany, and ethnobotany.
---
STEPHANIE JARVIS
Stephanie S. Jarvis, M.Sc Partner in California Truffle Orchards, and proprietor of Napa Valley Fungi, Stephanie Jarvis tests roots and soils for beneficial fungi (mycorrhizae), consults on truffle orchard projects, and cultivates medicinal and culinary mushrooms using wine industry waste products. She is a certified Arborist and a certified Tree Risk Assessor through the International Society of Arboriculture (ISA) for whom she teaches accredited seminars on fungal identification and ecology for better diagnostics of tree-health. Stephanie completed her Masters of Science in Ecology, Evolution and Systematic Biology at San Francisco State University, with a focus in Mycology. Under the guidance of Dr. Dennis Desjardin, she wrote the monograph on puffball fungi from California (publications are pending). She spent her undergraduate years at Sonoma State University studying Mycology with Dr. Chris Kjeldsen and Sudden Oak Death with Dr. Richard Whitkus and Dr. Hall Cushman. She has worked as an intern for Dr. John Holiday at the medicinal fungi company Aloha Medicinals, and has attended cultivation seminars at Fungi Perfecti with Paul Stamets. Stephanie plans a life-long career in the world of Mycology and Arboriculture while enjoying the hobbies of aerial silk acrobatics, acting at ACT in San Francisco, tennis, cooking, and of course - foraging for fungi.
---
DAVID RUST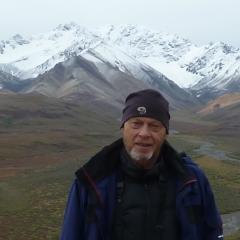 David Rust is co-founder of the Bay Area Mycological Society (BAMS!). He has helped organize three All California Club Forays and coordinated the Mycoblitz cooperative science forays at Point Reyes National Seashore. He has given talks at the Point Reyes Fungus Fair, Santa Cruz Fungus Fair, the Cascade Mycological Society, the Colorado Mycological Society, and the Sonoma County Mycological Association.
He has followed research on the devastating forest pathogen Phytophthora ramorum, which causes the disease known as Sudden Oak Death (SOD). He is a member of the California Oak Mortality Task Force. Rust has written for Mushroom The Journal on the discovery and science of SOD.
David is President of the North American Mycological Association (NAMA), co-chair of NAMA's Marketing Committee, and is recipient of NAMA's Presidents Award for Outstanding Service for his work on the NAMA website.
---
ALAN ROCKEFELLER
Alan Rockefeller is a mycologist and photographer specializing in mushroom identification and taxonomy. He has been collecting mushrooms for ten years, and has traveled to Mexico to collect mushrooms for the past 8 years. Alan is a network security expert who has a mushroom DNA lab in Berkeley and posts all of his mushroom photographs on mushroomobserver.org. When he is not hunting mushrooms Alan spends his time looking at mushrooms under the microscope, soldering electronics, hacking unix and sequencing mushroom DNA.
---
CHRISTIAN SCHWARZ
Christian Schwarz is a mushroom enthusiast and taxonomist and citizen science advocate from Santa Cruz, the land of milk (caps) and honey (mushrooms). He studied at UCSC, and now spends his time photographing, teaching about, and making scientific collections of macrofungi. He is coauthor of the upcoming field guide "Mushrooms of the Redwood Coast", and is slowly building a mycoflora of Santa Cruz County (www.scmycoflora.org). He also writes a blog called Notes of a (www.mycobratpack.tumblr.com). Fungi satisfy his curiosity with their seemingly endless forms (from the grotesque to the bizarre to the sublime). He has travelled in search of fungi throughout the United States, as well as central America, Indonesia, and Europe. Besides mushroom taxonomy and mycofloristics, he's an excitable birder and passionate about citizen science in general. 
---
DOUGLAS SMITH
Douglas Smith has been an avid mushroom hunter and photographer for years. His photos have been featured in many field guides, journals, and the National Geographic. He will talk about a survey of the mushrooms from Los Trancos Open Space preserve, that he has been doing for the past decade. This is a nature preserve above Palo Alto in the Santa Cruz mountains, and will show what mushrooms you can expect in the area's live oak habitat.
---
DEBBIE VIESS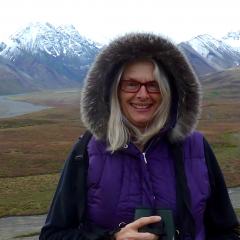 Debbie Viess, aka "Amanitarita", is a trained biologist, writer and artist who has been seriously obsessed with the study of all things fungi for over fifteen years. She is co-founder of the Bay Area Mycological Society (BAMS!), the newest and most dynamic, science-centric mushroom club in the San Francisco Bay Area. She has written about mushrooms extensively both online and in print, and has lectured about mushrooms to mushroom enthusiasts and the general public across the country. In March, 2008 she produced an extensive, illustrated lecture on California Amanitas for the U.C. Berkeley Natural History Museums for a "Science Cafe."
Viess has taught mushroom classes through the California Academy of Sciences, Albany Adult School, the Audubon Society, UC Berkeley Botanical Gardens and Pt. Reyes Field Seminars. Debbie was most recently published in Manzanita, the journal of the Friends of Regional Parks Botanic Garden. Her lead article, East Bay Amanitas: The Good, the Bad, and the Beautiful, has generated quite a bit of interest.
---
HENRY YOUNG
Henry is an amateur mycologist who has collected and studied fungi for over 30 years. He started by taking identification classes with David Arora. He joined the Fungus Federation of Santa Cruz in 1986 and has been a board member since 1987. Henry attended the San Francisco State University "Spring Fungi of the Sierra Nevada" course taught by Dr. Dennis Desjardin and several other workshops and classes dealing with various aspects of mycology.
He has been a contributor to mushroom identification for the Santa Cruz and San Francisco Fungus Fairs. His name is on the call list at local hospitals to help identify mushrooms in poisoning cases. In between giving classes at the Fair, he works at the identification table helping to identify mushrooms.
In addition, locally, Young has led several forays at nearby state parks, and with Phil Carpenter he has taken groups of students from UCSC out to hunt during mushroom season. Besides a general interest in all types of fungi Henry has a particular interest in ascomycetes and lichens. Henry is also a member of BAMS and NAMA and has attended several national forays.
---
CHEF BOB WYNN
Growing up on a farm in upstate New York, my job of making mashed potatoes for Sunday dinner began my love for food and tools. Nothing like newly-dug spuds, butter, cream and a Sunbeam Mixmaster to whip them to perfection. As a child, I also enjoyed hunting mushrooms with my aunt. It wasn't until we moved to Santa Cruz in 1985, that I discovered the Promised Land of mushrooms. My wife, Doreen, gave me a wonderful birthday present — David Arora's mushroom ID class. We went foraging and came across a lawn-ornament sized Porcini. I knew then, we had come to the right place. Ever since, I have been cooking for club events and the Fungus Fair.